R U OK? Noticing signs that a colleague is struggling and checking in.
September 10 each year is R U OK? Day – a day to check in with those around you and to raise awareness of mental health issues. Here are some tips that may help.
Posted on Thursday September 10, 2020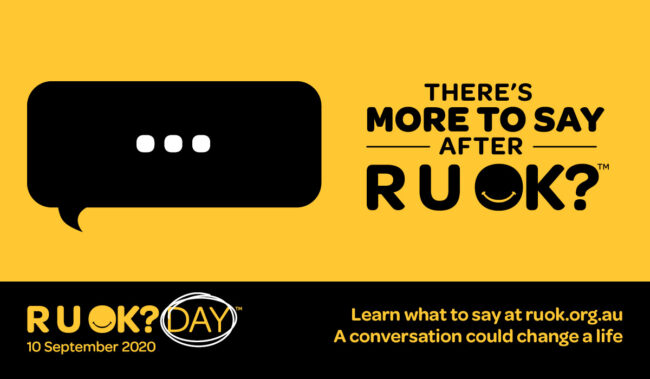 It is fair to say that 2020 has been a year like no other! From many communities in Australia entering the new year in the midst of bushfires or bushfire risks, to the global pandemic that continues to impact all aspects of our lives, including the increasing focus on the impacts it will have on the economy, employment and business into the future. If you have found 2020 challenging you are not alone!
But with these challenges there can be positives – one such positive I have noticed is a conversation about mental health and wellbeing through the pandemic, discussions about how to adapt and adjust, to be kind yourself and those around you, and to put things into perspective. Importantly, part of this conversation has included a focus on checking in on others, talking about how we are feeling, and staying connected with colleagues and friends.
R U OK? Day is all about asking that simple question – 'are you OK?' – and being ready to listen to the response.
How to ask R U OK?
Be relaxed and friendly, and be genuine in your intention to be of service.
You could say 'How are you going?' or 'How have things been with you lately?' They may not want to talk and that is ok too. You could say something like 'OK, let me know if you ever want to chat'.
Listen with an open mind and don't interrupt or judge them. You could ask 'What has been their experience?' or 'What is going well and what is not going so well'.
Check to see what supports they have in place and what self-care strategies they might be using
Help connect them to supports. Many workplaces provide free employee assistance counselling (EAP) to staff.
If they are experiencing a work related problem, such as workplace conflict, you may encourage them to discuss this with their supervisor.
Follow up again – put a reminder in your diary to catch up with them again in a couple of weeks.
Sometimes you may notice a colleague is behaving differently to usual and this may prompt you to check in. You may say something like 'I've noticed you've been very quiet in team meetings lately, is everything OK?
Warning signs that a colleague may be struggling:
Poor attention and concentration
Difficulty making decisions
Fatigue
Withdrawal and isolation
Increased sick leave
Workplace conflict and irritation with others
Out of character emotions (for example angry outbursts or becoming teary when these are not common responses for that person).
There is lots more information available via the R U OK website and remember – you can ask 'R U OK?' any day of the year not just September 10! https://www.ruok.org.au/work